I'll Have Another Scrapped From The Belmont Stakes, Dashes Triple Crown Hopes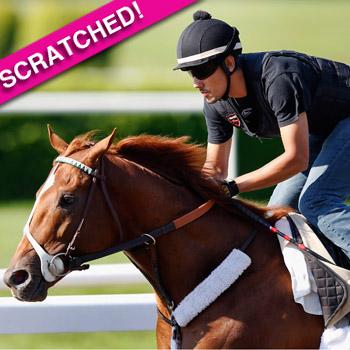 By Debbie Emery - RadarOnline.com Reporter
The horse racing world's dreams of a Triple Crown winner for the first time in 34 years were dashed when favorite I'll Have Another was pulled from Saturday's Belmont Stakes.
The three-year-old colt, who had set the race track alive with his spectacular wins at the Kentucky Derby and the Preakness last month, is suffering from a very untimely case of tendonitis and most likely will never race again, his trainer Doug O'Neill announced on the Dan Patrick radio show on Friday.
Article continues below advertisement
"It's just a freakish thing," revealed O'Neill, when explaining how the thoroughbred had returned from training with a swollen left fore leg, possibly from straining or hyper-extending himself. "It's not tragic, but it's a huge disappointment.
"I'm bummed we're not participating," he added. "Whoever wins (the Belmont) will be a special horse."
After winner the first two legs of the historic Triple Crown, I'll Have Another was the 4-5 favorite in the Belmont, New York race. If he had won he would have been the first horse to achieve the impressive feat since Affirmed in 1978.