But Is It Art? Man Turns His Pet Cat Into A Remote Control Helicopter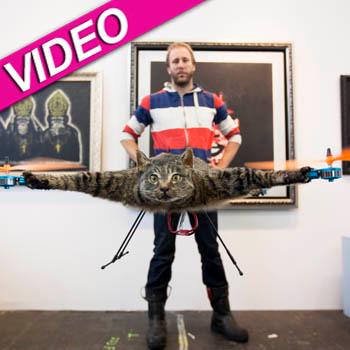 Is it a bird? Is it a plane? No, it's a 'Cat-Copter'.
A wacky artist has turned his dead cat into a remote control helicopter and RadarOnline.com has the bizarre photos and video of the flying beast.
Dutchman Bart Jansen decided to honor his furry friend - aptly named Orville - after it was killed by a car.
But instead of a heartfelt funeral or a ceremonious back yard burial Jansen chose to stuff his pet and propel it to stardom - literally.
Article continues below advertisement
Named the 'Orvillecopter' the crazy contraption is described as 'half-cat, half-machine' and has a plastic propeller attached to each of it's paws.
"After a period of mourning, he received his propellers posthumously," Jansen wrote on the video's description. "Now he is flying with the birds. The greatest goal a cat could ever reach!"
While it took a few goes to get lift off Orvillecopter was finally up, up and away ready for it's debut at the KunstiRai ArtFair in Amsterdam.
Jansen describes his artwork as mostly about what happens when the race for technological progress meets human error.
So, is it art, or is just dead, dead wrong? Sound off below!