Woman Who Was Mauled By Cheetahs As Husband Took Photos Shows Off Her Injuries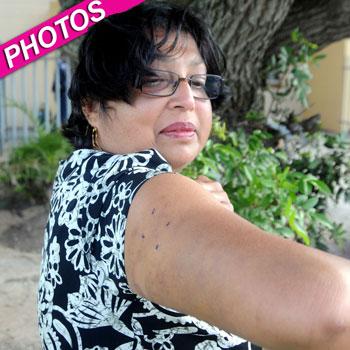 Article continues below advertisement
The excited tourist was posing for a photo in a petting area when one of the giant hand-reared cats suddenly sprang and grabbed her by the leg with its razor-sharp claws, reported the Port Elizabeth Herald.
"It all happened in just a few minutes, but it was a nightmare," said D'Mello, who played dead when one of the seemingly "completely tame" animals attacked.
"They weren't being vicious. You could tell (the cheetahs) were just excited, but it became serious very quickly," she explained as she revealed the deep scratches on her arm and a black eye from being flung to the ground.
As his wife was being dragged down, Archibald D'Mello kept snapping photos, documenting the horrific scene, oblivious that she was being clawed and bitten.
Rather than worrying about her own safety, Violet was most concerned about protecting seven-year-old Calum Malan, who was visiting the park with his family.
"It all happened so fast. After his sister Camryn was free, the boy Calum ran. As I stopped him, something jumped me from behind," said Violet.
Article continues below advertisement
As the huge cheetah pawed at her head, the smart-thinking Scot simply lay still. "Something inside me just said, 'Don't move. Don't move at all. Don't react, just play dead.'"
But as soon as the tour guide pulled one cat off her, his brother got into the mix and went in for a bite, gnawing at D'Mello's legs and pinning her to the ground.
While Violet is just happy to survive what she called "a playful attack," Archibald is furious at the lack of safety regulations. "We're very angry about what happened because we were told the situation was safe and it obviously wasn't," he said, according to ABCNews.com.
"The park said they didn't know what had caused the cheetahs to attack but they shouldn't let tourists in unless they're sure it is safe."
The petting facility has been closed while the incident is investigated, and officials suspect that a nearby female in heat may have riled them up.
"We've had these animals for four years," said park manager Mike Cantor. "Dozens of people have come through here and seen them and fallen in love with them, so it pains us to hear about something like this."