Exclusive
Taxidermy Gone Wrong: The World's Worst Stuffed Animals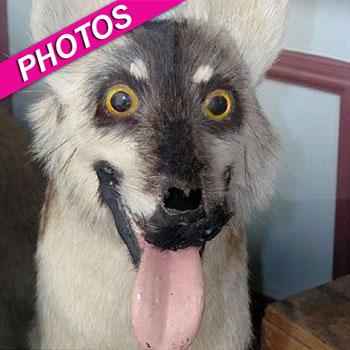 When good animals go bad!
Animal lovers are discovering the grizzly side of taxidermy after a Facebook page was launched documenting the world's worst attempts and RadarOnline.com has the catastrophic photos.
From a two-legged donkey to moles made into slippers, these stuffed beasts have been posted on a page named, Badly Stuffed Animals and it already has 6,300 fans.
Most people see the funny side of the jobs gone wrong writing comments such as "it's like Pet Cemetery cross with Ren and Stimpy, genius" and "absolutely historical."
Article continues below advertisement
But others aren't so enamoured by the work branding the creations both "inhumane" and "cruel."
The collection already includes deformed looking hogs, monkeys and even a gun slinging squirrel. But it is now so popular fans are adding their own shocking animals to the social networking page.
What do you think -- funny or faux pas? Leave your comments below...
RELATED STORIES:
Michael Vick Cancels Interview With Oprah For 'Personal Reasons'