Two Horses Die At Grand National Steeplechase Including Race Favorite Synchronised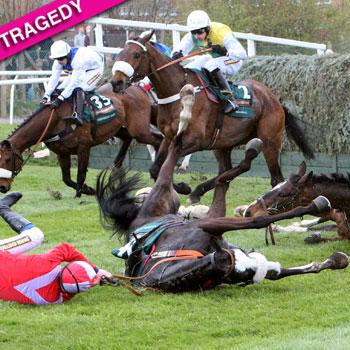 Seventy thousand stunned spectators watched in horror as two horses were euthanized Saturday after they suffered terrible falls at the historic Grand National Steeplechase.
Synchronised and According to Pete both went down at the sixth fence, but at different parts of the race, held in the U.K.
"In both cases the horse incurred a fracture to the leg and the humane option was to put the injured horses down," Tim Morris from the British Horseracing Authority said.
Article continues below advertisement
"We will examine closely the circumstances which led to both incidents... and consider what measures can be taken to address the risk of a repeat in the future."
Synchronised's jockey Tony McCoy was unseated by his horse before the race causing a delay but after being "thoroughly checked" was given permission to join the line-up.
This is the second year in a row that two horses have died at the Grand National held at Aintree and organizers had altered the course after last year's tragedy after pressure from animal rights groups.