Dog Before Marriage! Meet The Couple Who Sacrificed Their Wedding To Pay For Sick Pet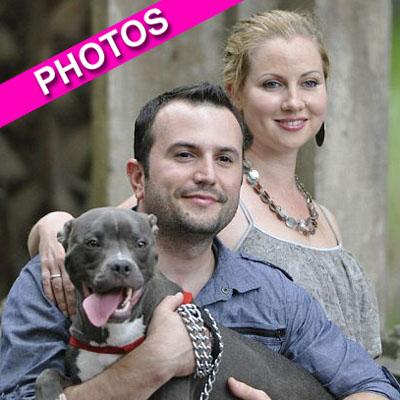 By Debbie Emery - RadarOnline.com Reporter
A dream wedding is the most important thing in the world for most engaged couples, but not these devoted pet owners.
Melanie Cannon and Eddie Hanna of Port Orange, Florida, gave up their entire wedding fund for the sake of their sick pit bull, Koda, after they discovered that the rescued runt of the litter suffered from serious health defects.
The newly engaged couple adopted Koda last year from the Halifax Humane Society, but when they took him to the vet for a check-up he told them the young pup had the worst case of liver shunt that he'd ever seen and would need lifelong medication.
Article continues below advertisement
Despite having already lost a large chunk of their wedding fund when plans had to be canceled last minute because Melissa's grandmother died, whether to save the smiling pit bull mix or walk down the aisle was never even a dilemma for them and their big day was put on hold once again.
"We just did what anybody would've done," Hanna told the Daytona Beach News-Journal. "He deserves to be alive and to be loved."
The animal-loving pair spent the money they'd had to save up the second time around on Koda's vet bills and medications so that he at least would have a chance at life.
When the Humane Society learned of their generous sacrifice, they rallied around local companies to help fund Melanie and Eddie's wedding so that they could finally get married.
"It really hit home with our entire staff," said Miguel Abi-hassan, Halifax Humane Society's executive director. "We felt we needed to be able to do something to turn that around."
Article continues below advertisement
Now the long-suffering pair will walk down the aisle on Saturday thanks to the donations of a slew of well-meaning vendors including Amber's Jewel Catering, which is hosting the reception in Ormond Beach.
"Having as many dogs as we do daughters, we understand the never-ending vet bills, pounds of dog food each week; this was such a natural fit to help with this wonderful event," said chef and co-owner Lynne Monroe. "We know that we have spent as much on our pets as we will on our girls' weddings, how could we not want a hand in this occasion?"