Canine X Games! Talented Bulldog Shows Off His Amazing Board Skills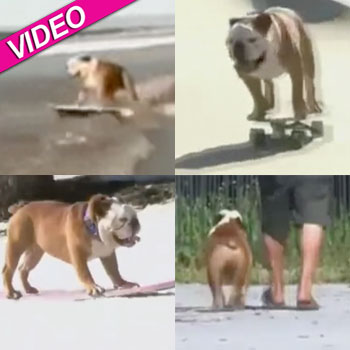 Article continues below advertisement
According to his YouPet.com profile, Tillman is "anything but ordinary. He is the greatest skateboarding dog on the planet, in many of his fans' opinion. He is self propelled and has more energy than a power plant."
The boisterous bulldog took up skim boarding in 2008, and then when winter came around he took his new hobby to the slopes and earned a reputation as "an extreme sports dog" thanks to his squat body that gives him a solid center of balance.
When he's in a more mellow mood, the happy go-lucky Natural Balance spokesdog likes acting like a retriever chasing baseballs in little league batting practice, wrestling with his best friends, Rose, Sully and Wally, or chatting with his many fans through his Twitter page, @TillmanSkates.
Owner Ron Davis named his dog after Pat Tillman, the NFL star who left football to become a U.S. Army Ranger after 9/11 and was tragically killed in action.