NYC Police Shoot Pit Bull Trying To Protect Its Owner, Dog Lives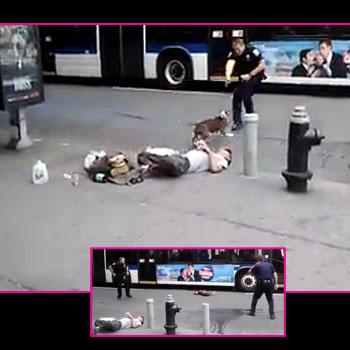 A pit bull named Star is recovering well, Animal Care and Control authorities say, two weeks after it was shot in the head by a New York police officer.
The incident took place August 13, when the dog's owner, a homeless man named Lech Stankiewicz, lapsed into a seizure in the East Village at E. 14th St. and Second Ave. When police tried to approach the man, Star tried to fend them off aggressively until one of the officers unloaded into the dog's head.
Article continues below advertisement
The dog's medical bills totaled almost $10,000, paid for by a charity fund set up. Animal Care and Control took custody of Star after Stankiewicz did not take possession of the animal by an 8 pm ET deadline August 24.
Star reportedly had another run-in with police earlier this summer, when he went after a police officer at Second Ave. and E. 15th St. June 19, the NY Daily News reported. When a 22-year-old woman tried to run in, Star bit her on the arms and chest, causing her to be hospitalized.