Amazing Tale Of Dog Who Survived 100 Ft Fall And Found Way Back To Vacation Home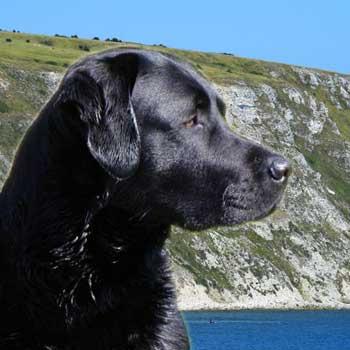 Now, this is quite the shaggy dog tale!
Bella, a gorgeous black lab, proved a dog's innate homing instinct is second to none after surviving a 100 foot fall off a cliff and then finding her way back to the vacation home, a mile away, that she had only been to once before, a year earlier.
Bella's incredible journey began after she fell off a cliff in Dorset, England as she chased a seagull while out on a walk with her owner, Chris Sexton.
Article continues below advertisement
The MailOnline reports that Sexton spent a desperate 30 minutes searching for his beloved pooch before his wife called to say she had arrived back home safe and sound.
"She is only 15 months old. I walked her down to the cliffs from the holiday home last summer but i would never have thought she would of remembered the route," Sexton said.
"I have no idea how she survived the fall, got back up the cliff and then found her way back home by herself. It is quite amazing."
Chris went on to explain his horror at watching the lab fall over the cliff.
"She just went for it and then went over the edge with her legs splayed out.
"I thought it was the end of her and I looked over the edge and thought I could see her on the beach but didn't know if she was alive or dead.
"When I got down there, there was no sign of her. I called and whistled for her but nothing. After about ten minutes I called my wife Jo who was back at the flat to tell her what happened.