Touching Photograph Captures Man Cradling His Sick Dog In Lake Superior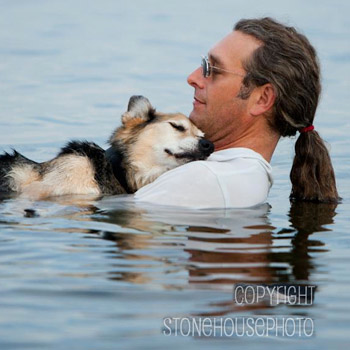 By Debbie Emery - RadarOnline.com Reporter
Get the Kleenex ready!
The old adage "man's best friend" never rang more true than in a moving photograph that captures an owner cradling his life-long companion in the water of Lake Superior to ease the pain of canine arthritis.
Wisconsin native John Unger adopted his dog, Schoep, when he was just a puppy but after 19 years together the shepherd mix is suffering from arthritis and has trouble sleeping so the inseparable pair head to nearby Lake Superior so he can be lulled to sleep by the water.
Article continues below advertisement
The heartwarming image of the bond between man and dog was captured by close friend and photographer Hannah Stonehouse Hudson, owner of Stonehouse Photography, who snapped the picture in a last minute session that captured the magical moment. "John loving his Schoep, and Schoep trusting John so much he falls asleep in the buoyancy of the water. This is in no way posed. I hate posed photos. They never, ever capture the true essence of anything," she told the Huffington Post.
The impromptu photo shoot has turned John and Schoep – who is named after a famous Wisconsin ice-cream shop – into Internet sensations after Stonehouse Hudson posted the photo on Facebook and received 283,000 likes and 169,000 shares as of Thursday.
"Shoep falls asleep every night when he is carried into the lake. The buoyancy of the water soothes his arthritic bones," she wrote. "Lake Superior is very warm right now, so the temp of the water is perfect. I was so happy I got to capture this moment for John."
Article continues below advertisement
The photographer went on to tell the Huffington Post about the unbreakable bond between the pair. "John lives for this dog, and for the dog's comfort. My mother has a saying, 'Everything is for the comfort and convenience of the Dog.' John is a prime example of this."
Unger and his former fiancee found the abandoned and possibly beaten pooch at the Humane Society in Ozaukee County, Wisconsin, when he was an 8-month-old puppy. "We knew we wanted to work with an animal who was abused," he told the Duluth News Tribune. "I just had a vision of working with an animal to bring out his full potential."
While the relationship with his fiancee didn't work out, the one with the adopted dog did and the 49-year-old farm caretaker credits him for helping him get over the debilitating depression he suffered after the bitter break-up that even led to him contemplating suicide.
"To be honest with you, I don't think I'd be here if I didn't have Schoep with me (that night). He just snapped me out of it. I don't know how to explain it. He just snapped me out of it… I just want to do whatever I can for this dog because he basically saved my ass."
Article continues below advertisement
Now facing the prospect of possibly having to put him down if the pain medication doesn't work, Unger revealed: "What was going through my mind when Hannah was taking those pictures was that this may be the last time I'm going to be swimming with him."
Ironically the photo may save Schoep's life as donations have now been pouring in to help pay for his laser treatments to combat his arthritis. Prints can be bought at LakeSuperiorCards.com, and a portion of the proceeds will go towards vet bills.