Orphaned Baby Orangutan Given A Second Lease On Life, Gets Up To Monkey Business!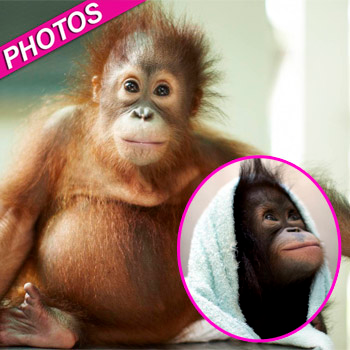 By Debbie Emery - Radar Reporter
It just wouldn't be a Friday without a little monkey business — and this is one lucky ape!
An adorable baby orangutan called Kalabatu was found alone in the Malaysian forest after her mother was killed, but was fortunate enough to be adopted by the Sepilok Orangutan Sanctuary, where she is clearly the queen of the jungle, and RadarOnline.com has the super cute photos.
Article continues below advertisement
Having rapidly settled into her new home in Borneo, east Malaysia, the tufty haired little red head can be seen getting a free ride as she clings to her surrogate mother's leg for protection.
Back at the conservation center, the one-year-old looks snug as a bug in a rug when wrapped up in her baby blanket, staring up adoringly at her caregivers.
This adorable baby album was captured by nature photographer Yosuke Kashiwakura, who explained: "This baby orangutan was brought to the wildlife conservation facility after her mother was most likely killed by humans."