There's A Bear Cub In My Garage! Acrobatic Cub Becomes YouTube Hit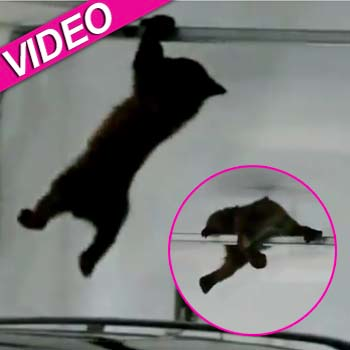 By Debbie Emery - RadarOnline.com Reporter
A cunning cub proved he was smarter than the average bear when he got stuck in a garage, and RadarOnline.com has video of his daring escape with a little helping paw from his mom.
The furry troublemaker was caught on film hanging precariously from the tracks of the electric door, and when his protective parent heard his scared cries she charged to the rescue using her huge bulk to barge through the door and hold it open with her head.
Article continues below advertisement
Inching carefully along the ceiling mechanism, the cub showed the acrobatic skills of a monkey as he swung effortlessly onto a nearby ladder and climbed to safety – luckily without scratching the car parked below!
The clip was posted anonymously without revealing where it was shot but is already a huge hit on YouTube.