Inside The Secret, Bizarre World Of Japan's Pampered Pets!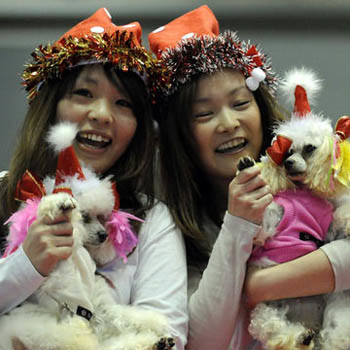 By Debbie Emery - RadarOnline.com Reporter
With birthrates in Japan plummeting and the cost of living skyrocketing, many potential parents are opting to have canine children rather than human ones, and RadarOnline.com has an inside look at the booming, pampered and somewhat bizarre pet industry that is taking Tokyo by storm!
There are now more pets than children in Japan and as the average age of the country's population has steadily climbed, official estimates put the pet population at 22 million or more, with only 16.6 million children under 15, reported the Guardian.co.uk.
Article continues below advertisement
"Japanese dog owners think a dog is like a child," explained Toshiko Horikoshi, a successful eye surgeon who spends her spare time spoiling her two pet pooches, Tinkerbell, a chihuahua, and Ginger, a poodle. "I have no children, so I really love my two dogs."
While American dogs (especially those owned by Paris Hilton) are sometimes dressed up in silly outfits, the Asian super power pooches are catered to at exclusive boutiques selling everything from frilly frocks to designer jeans, diapers to organic snacks, and smart "doggie bags" and strollers for transport to save their little paws from tiring.
High end labels such as Chanel, Dior, Hermès and Gucci all have exclusive dog lines, with puppy pullovers costing as much as $250. Beyond the closet, the lucky dogs get to enjoy the height of luxury by eating gourmet food, getting pampered in pet spas, visiting hot spring resorts, and even getting their own chairs to sit on at five star restaurants.
With all this excessiveness, it is no surprise that the industry now tops $1.5 billion a year, and despite the declining economy, many think it is more cost effective than having real children.
Article continues below advertisement
"It's good to have a dog if you don't have a baby, because it is quite fun to take care of him like a baby," said Jiro Akiba, whose miniature dachshund is named Kotaro, meaning 'first born son.'
"My dog really hates to go out with his feet," Akiba added. "Kotaro doesn't like walking at all."
"In Japanese society, it's really hard for women to have a baby and keep a job … so my girlfriend decided against having a baby, and that's why we have a dog instead," the cameraman explained.
It is now easier to find a canine daycare center than a nursery in Tokyo, for overnight stays there are $100 a night pet hotels, and if the dreaded happens – there are even temples where dead dogs are laid to rest with full Buddhist rites, with a deluxe funeral and cremation ceremony costing $8,000 or more.
"I find these days people grieve more for their pets than for parents or grandparents," says a monk at a thousand-year-old temple in one of the city's suburbs. "It is because pets are just like their child, so it is like losing a child."
Article continues below advertisement
However, it's not just two years of recession that are causing a lack of new bouncing babies, but also a declining sex drive.
"The most important reason for Japan's declining birthrate is less sex," reveals Dr. Kunio Kitamara, director of Japan's Family Planning Research Centre, citing a recent study that showed fewer contraceptives are being used and there are less abortions and lower rate of sexually transmitted diseases.
His research shows that almost half of married couples have sex less than once a month, and "young people dislike sexual intercourse".
One thing to blame could be Japanese men's dating tactics - one young man who spoke to the Guardian had dressed his dog up in a white hoodie and jeans, shoes and sunglasses because he wanted it to look "cute, cool and tough," and hoped his canine's look might attract young women, but so far he hadn't met anyone to share his life with.