Nothing Sheepish About Brave Border Collie Who Herds Tigers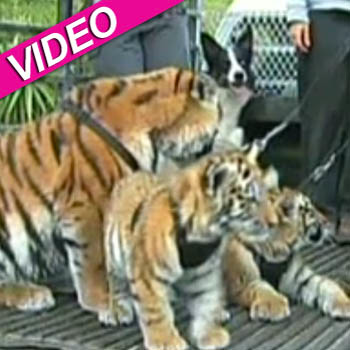 By Debbie Emery - RadarOnline.com Reporter
Gathering up a herd of sheep is nothing for one daring Border Collie, who tackles a much more challenging pack by keeping a group of tigers in check, and RadarOnline.com has video of the brave working dog.
Solo, a four-and-a-half-year-old hound from Port Elizabeth, South Africa, couldn't find any sheep to round up at the Seaview Lion Park where he grew up, so instead his canine instinct caused him to keep some Siberian tigers in line.
Article continues below advertisement
"You can see that when we come to the dam and the tigers stray away out of their little area, then he'll go and bring them back into position and bring them back towards the water," said Ashley Gombert, the General Manager of Seaview Lion Park, reported ITV.com, adding that the courageous collie also has hyenas and jackal pups that he bosses around.
In the amazing video, the black and white pooch shows no fear of the strong giant cats who could end his life with a quick swipe of their claws, even when they leap and jump around with him playfully.