Are You Ready For Some Cuteness? Meet The Starting Lineup For the Puppy Bowl!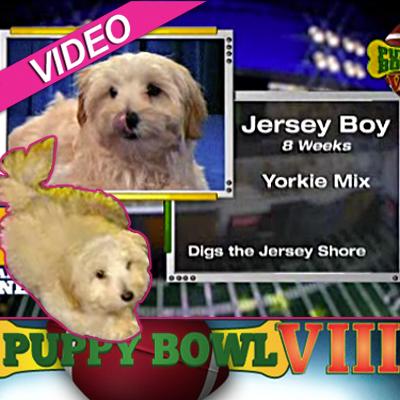 By Debbie Emery - RadarOnline.com Reporter
As the New England Patriots and New York Giants prepare for another bitter standoff in the Super Bowl, the names of the big day's cutest players have been revealed, and RadarOnline.com has video of the adorable sports stars.
For those viewers who hate football -- or just love puppies -- the Animal Planet's Puppy Bowl is the biggest event on the sporting calendar, and the starting lineup has some furry faces that are just as adorable as Tom Brady, more talented than Eli Manning, and innocent & saintlier than Tim Tebow.
Article continues below advertisement
The stats, signature moves and fun facts about the pooches competing for MVP in the 8th Annual Puppy Bowl are detailed on AnimalPlanet.com, where smitten fans can even adopt their favorite player - if only it were so easy to take a real football star home!
Watch the video on Radaronline.com
This year's competitors include Malie, a 12-week-old pit bull mix with one brown eye and one blue, who "hopes doggy paddle will become an Olympic event."
She'll be facing off against Aberdeen, an Australian Shepherd mix who is "saving up to buy a sailboat."
Fumble, a 9 week-old from Los Angeles who "has every Bow Wow song on his iPawd," has already been adopted.
Pitbull/collie mix Brandy is serious about the game but still has time for fun, as she tells fans her favorite comedian is "Canine O'Brien."
As RadarOnline.com previously reported, the big game is played on a small field, and includes tons of toys, chicken cheerleaders, feline referees with catlike reactions, and new this year - Meep the bird tweeting all the action.