Courtney Stodden Shows Off Her Puppies For PETA!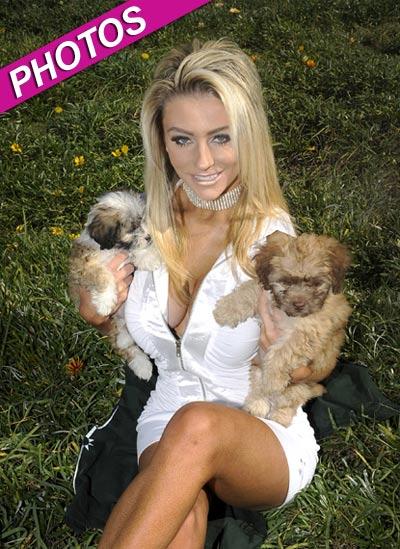 Article continues below advertisement
The scantily-clad teen bride, in a tight white dress and sky-high heels, was again flanked by her youngish-looking bodyguard.
"It's our responsibility to protect our animals... let's be their voice!," the 17-year-old tweeted to more than 85,000 followers Wednesday.
It was a far cry from Stodden's usual tweet methodology!
As RadarOnline.com previously reported, Courtney usually goes more for intimate, and somewhat bizarre, missives.
"Seduction swims sensuously throughout my soul and softly whispers sweet sentiments as a stream of silk spills over it's every secret ;) XOs," Courtney wrote on Twitter recently.
Following with: "Lacing down my provocative garter as a glimpse of the gleaming sun gushes intimately in upon me & grapples a taste of my gingering essence," and "My dangerously desirous hunger is sweetly appetizing for a hot soppy cream-cone that fluently overflows w/nothing but ssslippery excitement!"