Courtney Stodden Jogs In Short-Shorts & Stiletto Heels – With Bodyguard In Tow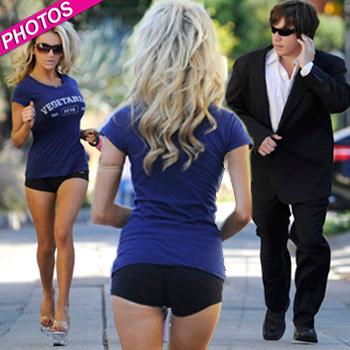 Kevin Costner, he's not.
Nonetheless, 'Teen Bride' Courtney Stodden -- wearing skimpy short-shorts and stiletto heels -- looked to be out of harm's way as she went for a jog with her new bodyguard in Los Angeles on Sunday, and we've got all the shots for you on RadarOnline.com.
Courtney, 17, alternated between wearing and taking off her stilettos, as she was flanked by her purple-dyed Chinese crested dog.
Article continues below advertisement
The youngish-looking guard wore an oversize black suit and tie; nowhere to be found was Courtney's husband, 51-year-old character actor Doug Hutchison.
"Slowly slipping into an elegant evening gown, sumptuous stiletto slippers & dazzling diamonds as I anticipate this sexy Sunday evening.XOs," the 17-year-old tweeted to more than 84,000 followers late Sunday.
Fun fact: This year marks the 20th anniversary of The Bodyguard, the drama-romance starring Costner and Whitney Houston that made more than $410 million worldwide, and spawned Houston's biggest hit single, "I will Always Love You."