Owners Of 378-Pound Pet Bengal Tiger Are 'Prepared To Bleed' During Playtime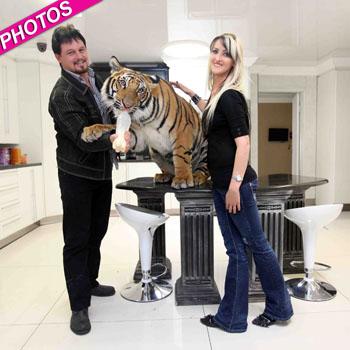 By Debbie Emery - Radar Reporter
A South African couple has put their lives in the paws of a pet by inviting a 378-pound Bengal tiger into their home, and RadarOnline.com has photos of the feline family member.
Lying on his back with his giant striped legs flopping in the air or sucking hungrily on a bottle of milk, it is easy to forget that one-year-old Enzo is a vicious man-eater and not a domesticated cat.
Article continues below advertisement
Despite being able to kill them with a quick bite, Michael Jamison and Jackie Smit, of Brakpan, South African, still treat him like one of the family but admit they are well aware of the dangers.
"Even if he doesn't bite down when playing, he can just scratch you with his teeth and you will bleed," said Michael. "That is one thing I've made peace with. Every time I play with him, I'm prepared to bleed a little bit."
So far the only victim of his huge bulk has been the couple's couch, which has been shredded, and the 11-pounds of meat that he eats every day. Luckily, he has so far left their 14 other pet dogs unscathed, even though the striped beast towers over them at meal times.
"Having Enzo is quite amazing. I can't compare it to anything else because every day is different," revealed 37-year-old Jamison.
RELATED STORIES: