UnBEARably Cute! Playful Pandas Fly Belly-First Down A Slide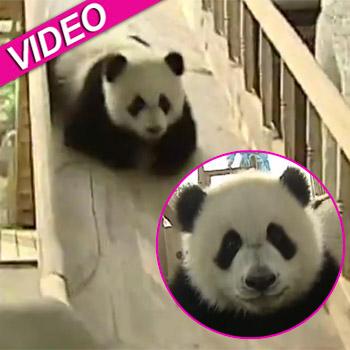 By Debbie Emery - Radar Reporter
A slide is always fun no matter how old you are, or whatever your species is, as a group of adorable giant panda cubs prove during their play date!
The four furry black and white friends can be seen flying down a specially built wooden slide at the Chengdu Panda Base in China, clearly loving it as much as any kid in a human playground, and RadarOnline.com has video of their animal adventures.
Article continues below advertisement
Emitting squeals of joy, the pandas bash into each other at the bottom and then scamper up the steps to go again.
One daring cub even tries to climb up the slide, only to fall down backwards into his siblings below and somersault onto the ground.
Along with creating endless fun and entertainment for the animals, the Chengdu Panda Breeding Research Center was opened to imitate the pandas' natural habitat to give them the best possible environment for rearing and breeding.