VIDEO: Flight Attendant Loses It - Curses Passengers & Exits Plane Via Slide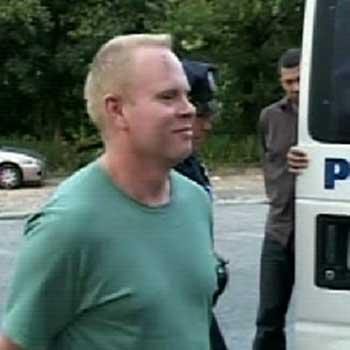 UPDATE: A NYC judge just set bail at $2,500 for Slater.
Meet Steve Slater.
Watch the video on RadarOnline.com
The JetBlue flight attendant was arrested Monday after a bizarre incident in which he cursed out more than 100 passengers on a Pittsburgh-to-New York flight before grabbing a beer, deploying an inflatable emergency exit slide and sliding off the plane.
The incident started after the plane landed at New York's JFK airport, when a passenger prematurely stood up and collected his bags from an overhead compartment. Slater, 39, told the passenger to stop what he was doing, and the two exchanged heated words, before one of the bags came loose and bopped Slater on the head. Slater asked the passenger to apologize, but the passenger refused.
Article continues below advertisement
Slater then grabbed the plane's PA system, authorities said, and shouted: "To the expletive who just told me to expletive off, its been a good 28 years!"
Slater then activated the inflatable evacuation slide, authorities said, swiping a beer from the plane's alcohol cart and scurrying off to the employee parking lot, where he found his car and drove back to his Queens, New York home.
Port Authority of New York and New Jersey police took Slater into custody Monday in connection with charges of criminal mischief, reckless endangerment and trespassing.
As news spread of the incident, fan pages dedicated to Slater began sprouting up on the social networking Web site Facebook. He was also featured on the covers of New York tabloids the Daily News and the Post, as well.
Slater will be arraigned Tuesday at which time he is expected to enter a plea.