From The Dinner Menu To A Surfboard! Goat Who Escaped A BBQ Makes A Splash At Beach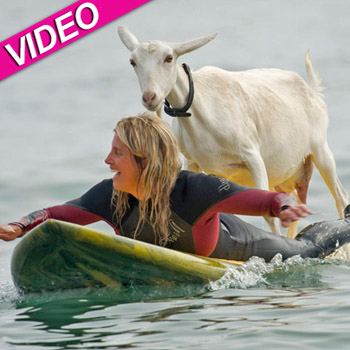 By Debbie Emery - Radar Reporter
According to the famous line in Apocalypse Now, "Charlie don't surf," – but Billy does!
A pair of fearless goats have become the latest members of the animal kingdom to take to the waves, and RadarOnline.com has video of their cool moves.
Goatee and Pismo became instant hits among beach-goers after they first hoofed it onto a surf board at San Onofre State Beach, 60 miles north of San Diego, Calif., reported the Orange County Register.
Article continues below advertisement
"They look pretty happy. Thinking this is going to be a little bit easier than surfing with the wife," said surfer Mark Gale, who went tandem surfing with the nanny goat and her little billy, along with his own wife, Debbie.
Owner Dana McGregor revealed that Goatee nearly ended up in a far more perilous place than the open water– his BBQ grill!
The Pismo Beach resident bought the female to clear poison oak from his property, and when friends from his native Africa came to visit, he had planned to cook her for dinner as goat meat is a delicacy in their homeland. Instead the soft-hearted owner bonded with his pet and the pair soon became inseparable, even on surf trips.
When Pismo was born in March, McGregor said he took to surfing like a natural and now the mother-son duo are standing side-by-side on the surfboard like true California beach bums.
Along with wildly entertaining sun-seekers watching from the sand and the sea, Dana is hoping that the novelty of his pets' new passion will help to raise money for a good cause.
"We've done a couple photo shoots, my buddy is doing a film, we're trying to raise money for a project in Haiti now. It's a goat farm for goat's milk and stuff, so that's our next project," McGregor explained.