Welcome Home! Pound Dog's Delight As His Master Returns From War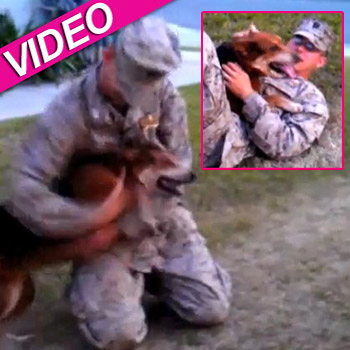 By Debbie Emery - RadarOnline.com Reporter
Nothing says 'welcome home' like sloppy puppy kisses, and a brave soldier was covered in them when he returned from a seven-month tour in Afghanistan in an emotional reunion that has turned into an Internet sensation.
Still wearing his camo gear, the soldier known only as Sean, is bombarded by his dog, Bailey, when he arrives back from war despite only adopting her from the pound three months before he left for combat.
Article continues below advertisement
Overjoyed to have her master home, the former stray can be seen wriggling, squirming and running in excited circles as she barks with joy.
"I think she remembers you!" says the person holding the camera, while a delighted Sean gushes: "You remember me! You remember me!" as he topples over on the lawn.
The bond between the man and the dog who had been separated longer than they had been together has touched the hearts of more than 15,000 YouTube viewers so far.