Exclusive
Robert Pattinson And Kristen Stewart Fighting Over Custody Of Dog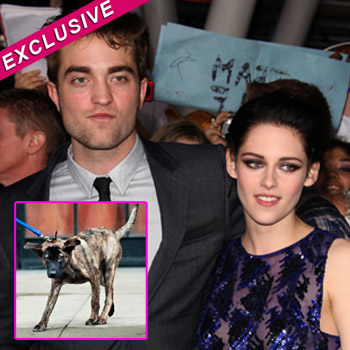 Article continues below advertisement
But K-Stew won't give up Bear without a fight, she's especially fond of the dog after helping him fight the potentially fatal disease Parvo.
"After Rob moved his things out of their Los Angeles home, he then told Kristen he wanted Bear," an insider said.
"She was heartbroken – they adopted Bear together and she always felt that he was their little baby.
"But Rob was so hurt by Kristen's actions he decided that he wants the dog to help him get over what happened. After all, a dog is a man's best friend and Bear is such a good companion.
"However, Kristen won't give up Bear in a hurry. She helped Rob save Bear from Parvo disease, which nearly took its life when it was a puppy.
"She wants joint custody – and it could get a little messy," the insider revealed.
According to the close source, K-Stew and R-Patz were also looking into the possibility of adopting another rescue before their split – they were desperate for Bear to have a companion.
Article continues below advertisement
"Before news of the affair broke, Robert and Kristen were looking into the possibility of adopting another dog. They were desperate for a play pal for Bear and scoured petfinder.com, as well as a few high-kill shelters in Los Angeles. But it seems that's out of the question now," the insider said.
As RadarOnline.com previously reported, a U-Haul truck was pictured over the weekend pulling out of the driveway from the $6 million Los Feliz home they shared, which could spell the end of the couple's broken relationship.