Italian Filmmaker Defends Kristen Stewart: 'There Was No On Set Affair'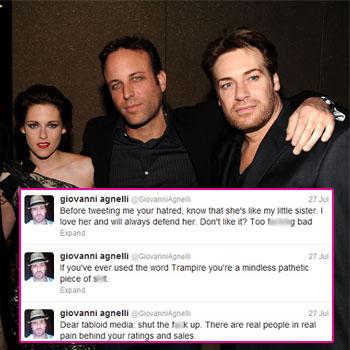 She may have outraged thousands of Twilight fans by cheating on Robert Pattinson, but Kristen Stewart has at least one supporter.
Italian filmmaker Giovanni Agnelli has taken to Twitter to publicly defend the actress whom he says is like his "little sister."
And he says that the 22-year-old actress never had an affair with married director Rupert Sanders while they were filming Snow White and the Huntsman.
Article continues below advertisement
Agnelli tweeted on Monday. "There was NO on set affair. Stop printing LIES."
PHOTO: Kristen Stewart Poses In Drag For Elle
Woe-betide anyone who criticizes the Twilight star. Agnelli – who produced Stewart's 2010 film Welcome to the Rileys – wrote: "Before tweeting me your hatred, know that she's like my little sister.
"I love her and will always defend her. Don't like it? Too f***ing bad."
As RadarOnline.com previously reported, Stewart made a public apology to Pattinson after photos were published of her canoodling with Sanders, a married father-of-two.
But Agnelli urged fans to "remember you sic humanity and heart."
Of Pattinson and Stewart he said: "They need to get through this first. Give them both love and time to heal."
In a profanity-laden series of tweets no one was immune from his wrath. He slammed the media saying: "Dear tabloid media: shut the f*** up."
To Stewart's critics he wrote: "If you've ever used the word Trampire, you're a mindless pathetic piece of sh**."
Article continues below advertisement
Defending his actions Agnelli wrote: "If one of your friends in real life was hurting, and lots of people were being, cruel would you ask them to please stop?"
He also indicated that he knows where Stewart is and that she has seen videos and supportive messages tweeted by her fans.
Agnelli wrote: "Please ask how or where she is, or what she thought.
"Just know this: She saw the twitition, and the support video tonight. Thank you."