Loyal Labrador Refuses To Leave Side Of Companion Dog Killed By A Car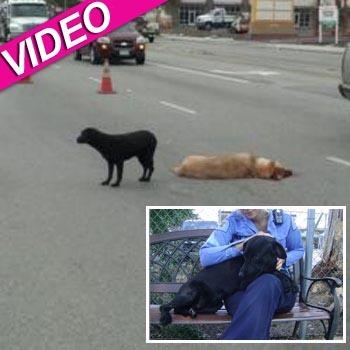 They say that there is not a more loyal companion than a dog, and a brave Labrador was the epitome of that last week after her canine companion was fatally struck by a car.
The black Lab, named Grace by officials at the County of Los Angeles Department of Animal Care and Control, was seen by drivers and pedestrians in the middle of Hacienda Boulevard in La Puente.
She was stoically standing guard over her pal who was laying motionless in the road and refused to move despite the peril of the oncoming traffic as seen in the heart wrenching video you can watch here on RadarOnline.com.
Article continues below advertisement
The driver who hit the dog didn't stop but someone did have the good sense to put traffic cones around the animals until help came so that there wasn't further tragedy.
No one has yet come forward as the owner of Grace and she did not have a tag or microchip implant.
The brave pooch was apparently very shy at first but "was showered with admiration and love and seem to be a well-adjusted little girl," DACC spokesman Aaron Reyes told the San Gabriel Valley Tribune.
"There is already a commitment to adopt Grace and she will likely be placed on Monday. If that falls through we already have four or five people as a back up," a source at the shelter told RadarOnline.com.