Accident Waiting To Happen? Couple Is BFFs With A Grizzly Bear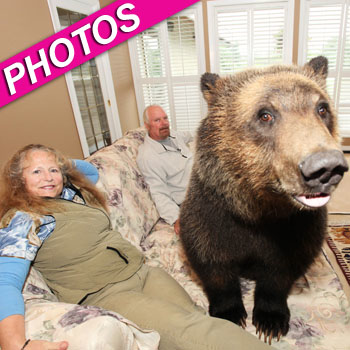 By Debbie Emery - RadarOnline.com Reporter
Most wise people run a mile when they see a grizzly bear but one reckless couple literally look death in the eye every day by inviting one of the man-eaters into their home.
As the recent hit comedy Ted revealed, even adults can have a pet Teddy Bear – but a full-grown grizzly? Meet Mark and Dawn Dumas, of Vancouver, Canada, who treat 250-pound, 5 foot tall Billy like an overgrown child.
Article continues below advertisement
The 18-month old bear follows the brave pair like a puppy dog, trailing after them to the grocery store, playing pool, downing a pint at the bar, or frolicking in their swimming pool with an inflatable ball.
In a bizarre twist of irony, the overgrown pet even owns his own stuffed Teddy Bear!
"He's been with us since he was a cub," 61-year-old Dumas told MailOnline.
At the time, Billy was one of three cubs born at a private zoo in Ontario, Canada, but his future 'parent' took him for a day out at the beach and they soon became inseparable.
"He loved splashing around in the waves and now he loves our pool," said Dumas, who explained that bears have a natural affinity with water.
Mark and Dawn have now since transformed their entire home into a bear-friendly zone and are training their furry ward for fame by teaching him tricks such as pretending to roar and standing on his hind legs, and he has proven to be an excellent pupil.
"Billy is very intelligent and has a really good spirit. He is very good natured and he learns fast," said Mark, who rewards the bear's efforts with treats. "His favourite food is jam and he loves tucking into a jar when Dawn and I have a picnic."
Article continues below advertisement
While Billy looks like a cute and fluffy pet, fully grown he will reach up to 800 pounds and very closely resemble the mammoth animal who killed a hiker in Alaska last week.
As RadarOnline.com previously reported, Richard White of San Diego, Calif., had a passion for hiking alone in remote places, but his desire to get up close and personal with nature backfired when the grizzly he was photographing at Denali National Park fatally attacked him.