Hiker Mauled By 600 Pound Grizzly Bear After Getting 'Too Close' Snapping Photos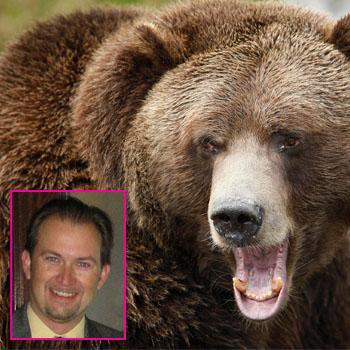 By Debbie Emery - RadarOnline.com Reporter
A hiker was so determined to get close up photos of a grizzly bear that it cost him his life.
Richard White of San Diego, Calif., had a passion for the great outdoors and a love of hiking alone in remote places, reported the San Diego Union Tribune, which led him on a trip of a lifetime to the remote Denali National Park in Alaska last week.
The 49-year-old scientist was photographing a mammoth 600-pound grizzly on Friday while it grazed and foraged in the tundra, for 8 minutes he went unnoticed snapping 26 photos 40 yards away but when the bear spotted the unnatural presence he quickly went in for the attack.
Article continues below advertisement
"The photos show the bear grazing in the willows, not acting aggressive in any form or manner during that period," explained Denali Park Superintendent Paul Anderson.
White's bloody backpack and clothing were found by hikers, they alerted the park rangers who flew over the area near the Tolkat River in a helicopter and discovered the grisly remains next to the large male grizzly guarding its "food cache." The predator was shot on Saturday and an examination of his stomach contents proved that he had killed the experienced hiker.
In his effort to get the perfect nature photo, White was "certainly too close," to the animal for safety, chief park ranger Pete Webster told the Anchorage Daily News.
"We know for certain the bear we killed is the bear that killed the backpacker," Webster said. "I'm very confident no other bear is involved."
Despite having 30 years of wilderness experience, the director of exploratory pharmacology wasn't carrying a gun or bear spray on his trip, and only had a whistle for protection. He had taken 'Bear Aware' training before his trip, which recommends visitors to stay at least one-quarter mile from bears and to leave an area if they happen upon one, but he is estimated to have been at least 10 times closer.
Article continues below advertisement
The die-hard adventurous attitude was typical of Richard, according to his father, Byron White. "He had a real zest for seeing the phenomena in the world and interacting with people all over the globe," he said. "He also liked hiking alone in these remote places. He enjoyed being out in the wilderness."
White was the first victim of a fatal bear attack in the park's history, where rangers have "worked very diligently to minimize the conflict between humans and wildlife in the park," explained Anderson. "We have some of the most stringent human-wildlife conflict regulations in the National Park system." An area of about 125 square miles around the kill site has since been closed to the public.