Too Many Meatball Subs, Joey? Matt Le Blanc Hikes Off Excess Weight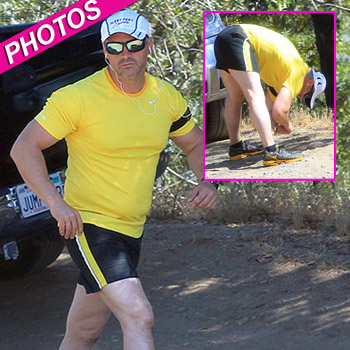 It's been eight years since we last saw Matt Le Blanc, as loveable Friends' goofball Joey Tribbiani, stuff down a pizza from the floor or mainline a meatball sub.
The wannabe movie star he portrayed seemed to eat the nightly output of an Italian restaurant without any effect on his waistline. But in the real world and with almost a decade passed, Le Blanc, 44, is struggling with a little middle age spread, and RadarOnline.com has the photographic proof.
Article continues below advertisement
Happily, the actor – who won a Golden Globe for playing himself in his new series, Episodes – still has the chiseled good looks we associate with his hit run in the 90s series.
And Matt will soon lose the chub if he keeps working out in the Hollywood Hills like he did on Monday. But if you see him sweating out, just don't ask him how he's doing…
***
Unfortunately, due to experiencing unusually high levels of traffic we have had to temporarily suspend our comments function. We will resume comments again as soon as possible.
MORE ON:
hollywood happenings