Jessica Simpson Working Hard To Drop Baby Weight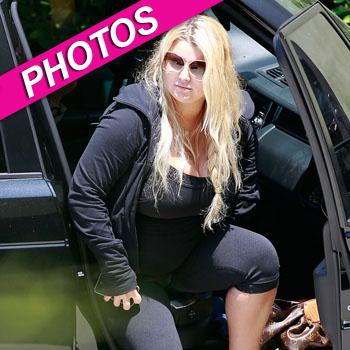 Article continues below advertisement
Now signed up to be a spokesperson for Weight Watchers, Jessica is set to earn a whopping $4 million for shedding the pounds she picked up while pregnant.
Jess said that she isn't under stress to drop the weight, Tweeting: "Just so everyone knows...Weight Watchers hasn't put ANY pressure on me. I'm trying to be as healthy as I can be for myself and I feel great!"
She has been a dutiful client, putting on her workout gear and trekking over to Harley's home gym regularly for her training sessions.
Jessica has been having fun with her new curves, recently Tweeting a picture of her ample cleavage and writing "Just taking a walk around the block…street legal?"
***
Unfortunately, due to experiencing unusually high levels of traffic we have had to temporarily suspend our comments function. We will resume comments again as soon as possible.
RELATED STORIES:
Jessica Simpson: 'Weight Watchers Hasn't Put ANY Pressure On Me'