From Heavy To Hot! Maria Menounos On How She Gained And Lost 40 Pounds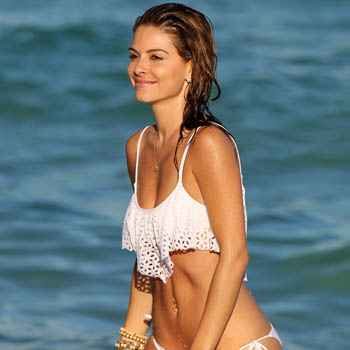 Article continues below advertisement
"Fruits, vegetables, grains, dairy and little meat," she explained. "It's what I aspire to eat today."
However, when she got to Emerson College after competing in several beauty pageants, the healthy teen was exposed to junk food in excess and gained what she called "the freshman 40."
"For the first time in my life I had such an array of fatty foots available at the college café. I couldn't resist the 'all you can eat!'"
Indulging in all the junk food took its toll on the aspiring host.
"I was always tired and sick. I knew I had to fix that if I wanted to deal with the demanding schedule of the news business."
So, how did Maria get back on track?
The Dancing with the Stars alum, who recently published a book called The EveryGirl's Guide to Life, in which she details her weight loss process, reveals that she started her weight loss journey by writing down everything she ate for a week and targeting the culprits.
Article continues below advertisement
"In my book I discuss how I cut back portions slowly with a long term plan to lose weight."
After a year, Maria got her body back.
"The key is never to say the word 'diet' to yourself or anyone else," she advises. "Just do it. Talk is cheap."
For more on Maria Menounos, pick up the July 2012 issue of Shape, on newsstands now.
RELATED STORIES:
Paula Deen Talks Weight Loss: How She Lost 30lbs
'Emotional' Jessica Simpson Struggling With Pressure To Lose Baby Weight