Who Was Perfect On Dancing With The Stars?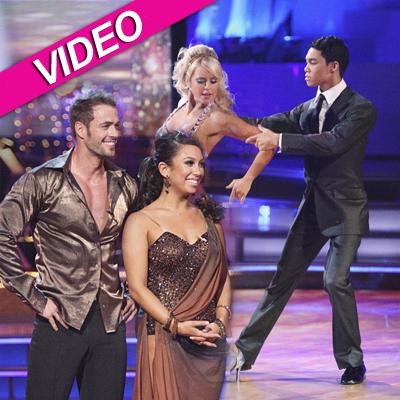 Latin heartthrob William Levy's torrid run on the ABC hit this season continued as the beefcake foxtrotted to a perfect 30 points in his first dance.
"You bring these performances to life," Carrie Ann Inaba told the hunk, who's been dubbed the "Cuban Brad Pitt," while Len Goodman said William's "technique and flare" complemented the dance.
William didn't lose any momentum in his second performance, in which he donned a Zorro mask to dance the a paso doble with pros Cheryl Burke and Tony Dovolani, getting 27 points, good for a night's high of 57 total.
Article continues below advertisement
With two couples on the way out, everyone needed a stellar showing, and Roshon Fegan delivered one on Monday, racking up 56 total points -- 29 for his foxtrot and 27 for his paso doble.
Bruno Tonioli compared Fegan's foxtrot to "watching a young Mickey Rooney," while Len Goodman praised the Disney star for his "tight buttocks."
Still in the thick of things, Donald Driver's 27-point tango and 28-point jive got him 55 points; Katherine Jenkins' Viennese waltz (26) and cha cha (29) got her 55, as well.
Maria Menounos, perfect last week, danced a 28-point Viennese waltz and 25-point samba that got her a disappointing total of 53 on the night.
What Melissa Gilbert didn't deliver on the dance floor, she made up for in rehearsal drama, clashing with her notorious hothead partner, Maksim Chmerovskiy.
"If it becomes too much of a berating, belittling argument, I just shut down," Melissa explained, while Maks groused the clips were making him "look like a terrorist," even though he's just a devoted coach.
Article continues below advertisement
"There is no way I can make him look like a bad guy," Melissa said, "but he can."
With 51 points, Melissa finished last on the night with a 24-point foxtrot and 27-point samba, though Len praised the Little House on The Prairie star, calling Monday's performance her best of the year.
Watch the video on RadarOnline.com
Two of the remaining celebs in this season's competition will be sent home when Dancing with the Stars continues on ABC Tuesday at 9/8c.