The 10 Most Fabulously Fit Bikini Babes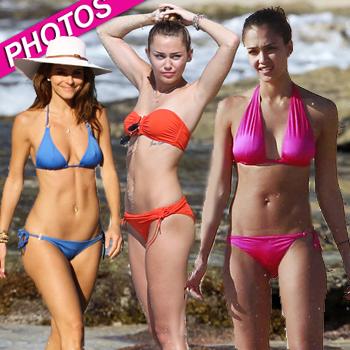 Article continues below advertisement
With her gluten-free diet and Windsor Pilates workouts, Miley Cyrus has perfected her bikini body. The newly engaged 19-year-old star loves stripping down and flaunting her barely-legal bikini body in the skimpiest of swimsuits, landing her a coveted spot on our hot list.
Maria Menounos is the hostess with the hotness! The Extra! hottie heats up the beach with her enviable abs and superior stems, which she has perfected even more since her long days of dancing up a storm on the hit show Dancing with the Stars.
Michelle Rodriguez is certainly not Lost about how to stay in shape! The toned and taut big screen bombshell recently revealed her perfect body in a nearly nude bikini in Cannes.
And when it comes to Glee girls, Lea Michele definitely hits the high note during bikini season. The television star has one of the hottest bodies on the tube and the shoreline.
What other stars made our RadarOnline.com Summer Bikini Awards hot list? Find out by clicking here.