Exclusive
Anne Hathaway's Shocking Detox Diet Reveals 'Extreme Pressure To Stay Painfully Thin'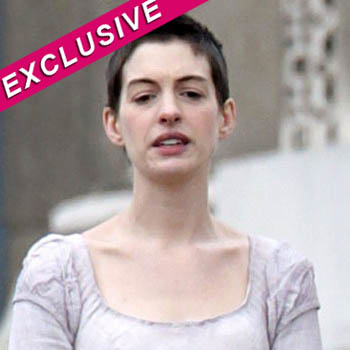 Article continues below advertisement
"I'm on day six of detox…This diet makes me break out, so I love that. Nothing like living on hummus and radishes and then be all, 'And I got a pimple. Yeah!'"
While the highly restricted diet helps her embrace the part of the lady of the night, it has concerned nutritional expert Jackie Keller, CEO of NutriFit, who has worked with the 29-year-old actress in the past.
"Generally speaking, extreme eating regimens are nothing new to many actors and actresses, who often pursue these avenues to get ready for roles. Are they necessary? Not in my opinion," Keller told RadarOnline.com in an exclusive interview.
"Hummus is a healthy food. Radishes are healthy foods. Kale is a healthy food. Alone or in combination, they don't constitute a healthy diet, or a good way to lose weight, without additional foods," she explained.
In her confession regarding her current calorie-restriction, 5'8" Hathaway also revealed that she lived on "kale and dust" while filming the upcoming action film The Dark Knight Rises.
"It was a psychological terrorist,"said the latest Catwoman. "The suit, thoughts of my suit, changing my life so I would fit into that suit.... It dominated my year. I didn't understand how you could be thin and strong. I went into the gym for ten months and didn't come out."
Article continues below advertisement
Keller told RadarOnline.com that the strict regime The Devil Wears Prada star is currently enduring is a far cry from her former healthy eating habits.
"I've known Anne to have a well-rounded, balanced approach to vegetarian dietary principles, but can imagine that she feels extreme pressure to stay painfully thin. I also know that it is difficult, but possible, to maintain an extremely low weight without starving," she said.