Anne Hathaway's Shocking Detox Diet, 'Living On Hummus And Radishes'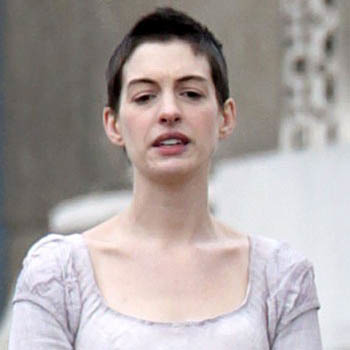 Anne Hathaway is no stranger to dangerous dieting techniques!
The Academy Award nominated actress, who recently lost a shocking amount of weight to play a prostitute in Les Miserables, reveals her work related weight struggles in the July 2012 issue of Allure – and RadarOnline.com has the details.
"I'm doing some crazy weight stuff right now," Hathaway shares about her most recent struggle. "I'm on day six of detox…This diet makes me break out, so I love that. Nothing like living on hummus and radishes and then be all, 'And I got a pimple. Yeah!'"
Article continues below advertisement
Before she had to transform her body for the movie adaptation of the popular musical, Anne spent a year tortured by the Catwoman suit she had to wear for the upcoming movie The Dark Knight Rises.
"It was a psychological terrorist," Hathaway, who previously revealed that she lived on "kale and dust" during shooting, explained about the skintight wardrobe staple. "The suit, thoughts of my suit, changing my life so I would fit into that suit.... It dominated my year."
MORE ON:
The Dark Knight Rises
"I didn't understand how you could be thin and strong. I went into the gym for ten months and didn't come out."
She also shockingly reveals that at the age of 23, someone told her to get Botox.
"I was like, 'Can we maybe discuss heavy creams first?'"
Nonetheless, Anne isn't entirely opposed to getting injections.
"I reserve the right to figure that out until after I've pushed out a bunch of babies."
RELATED STORIES: