Israel's 'Fat And Beautiful' Pageant Crowns The New 'Miss Large'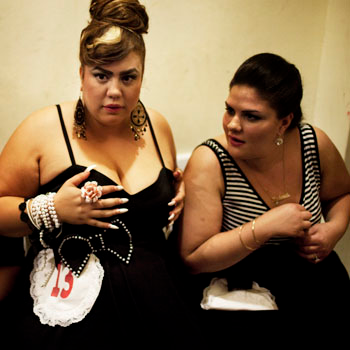 By Debbie Emery - RadarOnline.com Reporter
In an industry that promotes extreme thinness and eating disorders, it's refreshing to see a beauty pageant that embraces women who are full-figured and fabulous.
The 'Fat And Beautiful' contest in Israel is only open to women who are 174 pounds or above, and all the curvy contestants prove they are just as gorgeous as their skinny counterparts.
This year's winner at the event in Beersheva, southern Israel, was Vered Fisher, 22, who weighs in at almost 250 pounds and beat 15 other aspiring beauty queens to the title of Miss Large, reported The Huffington Post.
Article continues below advertisement
Modeling agent and the contest sponsor, Esterica Nagid, wants the world to know there is "no difference between skinny and fat.
"Nobody said only thin girls are beautiful. I am not encouraging fat, but if it exists, then this is the place for it."
Fisher, who served in the intelligence unit in the Israeli army before she began primping for pageants, wants to encourage plus-sized women to love their bodies. "Stay this way because you are pretty as you are and you can succeed as you are," she said.