Donald Trump: I'm Suing Miss Pennsylvania For Saying My Pageant Is Fixed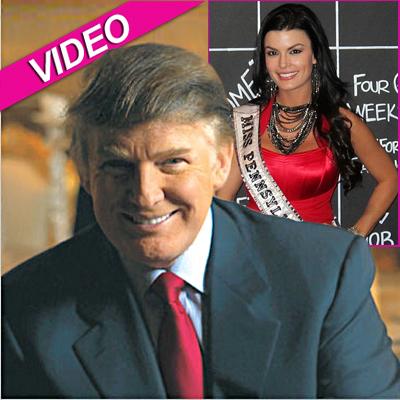 Donald Trump, who owns both the Miss Universe and Miss USA competitions, told Good Morning America Wednesday he plans on taking legal action against Miss Pennsylvania Sheena Monnin, who publicly claimed she knew of the top five finishers early Sunday, inferring the pageant is fixed in doing so.
"We're going to be suing her now -- she made a very false charge and she knows it's a false charge," Trump said, adding Monnin's claims are "totally ridiculous."
Article continues below advertisement
"I think her primary issue is that she lost and she's angry about losing. And frankly, in my opinion, I saw her barely a second and she didn't deserve to be in the top 15."
Monnin writes online that via another entrant, she saw a planning sheet that included a list containing the names of the top five finalists, and quit the competition as those beauties were confirmed.
"In my heart I believe in honesty, fair play, a fair opportunity, and high moral integrity, none of which in my opinion are part of this pageant system any longer," Monnin wrote on her Facebook page.
MORE ON:
Good Morning America
Miss Universe officials said Monnin previously complained about the inclusion of Jenna Talackova, the transgendered Canadian beauty who was initially turned away from the competition, but later let back in, but Trump said, "I don't think that she had an issue with that."
Watch the video on RadarOnline.com
As we previously reported, Rhode Island stunner Olivia Culpo won Sunday's affair, with Nana Meriwether, Miss Maryland, finishing in second place.