You're A Bully! Donald Trump Slams Rosie O'Donnell!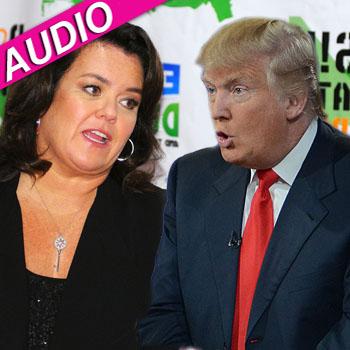 By Alexis Tereszcuk - RadarOnline.com Entertainment Editor
There is no love lost between Donald Trump and Rosie O'Donnell.
The Celebrity Apprentice slammed the former talk show host calling her a "bully" and saying he predicted her show would fail.
"Rosie is a bully," The Donald told the Roz Weston & Mocha show on Toronto's KiSS 92.5 Monday morning.
"Bullies are people that you have to meet head on and I met her head on. A lot of people didn't but she didn't get away with the act."
Article continues below advertisement
As the creator and star of his own hit network reality show, Trump said he knew from the start that Rosie's now-cancelled show on Oprah's OWN network would fail.
"I predicted correctly that Rosie would never make it," he said. "I did say that and she never made it so that was sort of good and I was very proud of that frankly."
You can listen to the complete Trump interview where he discusses his good friend Oprah and the Miss Universe controversy, here on RadarOnline.com.