Celebrity Apprentice: Who Was Fired?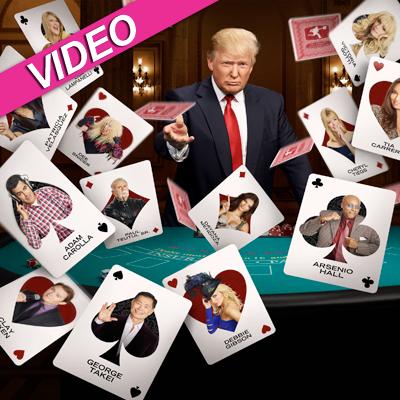 A new episode of Celebrity Apprentice aired on Sunday, and yet another celebrity was sent home.
Donald Trump let go of Paul Teutul, Sr., after the American Chopper star headed a failed puppetry challenge and RadarOnline.com has the video of what you missed.
Here's how it all went down:
Team Forte, headed by comedienne Lisa Lampanelli, and Team Unanimous, led by Teutul, Sr., had to put together a puppet show.
Article continues below advertisement
In this particular challenge, Team Forte truly lived up to its name, as Lampanelli's comic timing and singer Clay Aiken's showmanship buoyed them to a win. As for Unanimous, Teutul's admitted unfamiliarity with the craft of puppetry left them at a disadvantage, though Aubrey O' Day, Teresa Guidice and Arsenio Hall salvaged a decent show in spite of the lack of leadership.
The victory did not come cheap for Lampanelli, who did not work well with ex-Miss Universe Dayana Mendoza. In one instance, the gorgeous Mendoza called Lampanelli "disrespectful" and "unprofessional" after the comic did an impression she found culturally offensive. Just before the puppet show began, the two clashed again after Mendoza pestered Lampanelli about her lack of participation in the task.
"It's always something!" Lampanelli said. "Backstage is never good enough for you. How about this? Do whatever you f***ing want, how is that?"
Comic Penn Jillette tried to calm nerves, telling both: "Ladies, ladies, ladies, we have to be happy and jolly!"
A weeping Mendoza said of her frustration with the comedienne: "All I do with Lisa is treat her better than she treats other people and she still has no decency or respect -- it's disappointing."
Article continues below advertisement
In the boardroom, The Donald discussed the duo's unsteady relationship, but with their team in the winners circle, no one would have to go home. Unanimous members pointed to Paul when quizzed why this week's task wasn't successful.
Teutul admitted as much, getting the boot from Trump.
"He will be missed," Trump said of the classy TV star.
The remaining stars in the running for this year's crown are, in alphabetical order: Aiken, Guidice, Hall, Jillette, Lampanelli, and Mendoza.