Cheryl Tiegs First Fired From New Season Of Celebrity Apprentice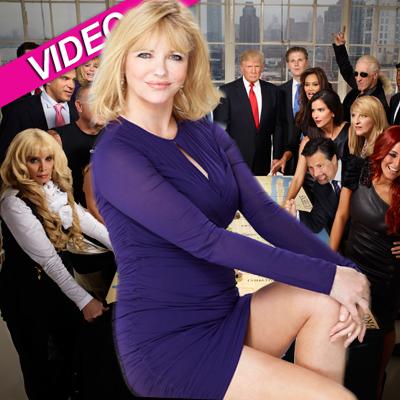 By Adam S. Levy - Radar Staff Writer
Supermodel Cheryl Tiegs was the first famous face ousted from the the fifth season of Celebrity Apprentice Sunday, and we've got all the details for you right here on RadarOnline.com.
The challenge on Sunday's episode was that the men's team, Team Unanimous, and women's team, Team Forte, had to open up their own sandwich shops in Manhattan. The men's team had a carnival theme while the women's had a red carpet motif.
Article continues below advertisement
Former catwalk crawler Cheryl Tiegs struggled in the initial challenge, as her inexperience using an industrial slicker to grind out slices of cheese made her look inept.
In the end, the men's team -- buoyed by a $305,000 donation from a pal of team leader Paul Teutal (American Chopper) -- defeated the fairer sex by a tote of $332,120 to $126,962.
Trump's final choice on Sunday's episode boiled down to firing either Tiegs, 64, team leader Patricia Velasquez, 41, or reality star Victoria Gotti, 49.
VIDEO: LaToya Jackson Eliminated From Celebrity Apprentice
Tiegs acknowledged her earlier struggles and said that she wasn't sure if the fast-paced, shark tank environment of The Donald's reality show was something she'd be able to survive over the long haul.
Article continues below advertisement
And with that, Trump told her, "You're fired."
VIDEO: Country Singer John Rich Wins Celebrity Apprentice
Donald Trump's reality franchise this season, stars, in alphabetical order: American Idol Clay Aiken, race-car driver Marco Andretti, funnyman Adam Carolla, Wayne's World star Tia Carrere, Incredible Hulk star Lou Ferrigno, 80s sensation Debbie Gibson, Gotti, Real Housewives of New Jersey star Teresa Guidice, 90s late-night host Arsenio Hall, comic Penn Jillette, insult comic Lisa Lampanelli, Making the Band's Aubrey O'Day, Teutal, Tiegs, ex-Miss Universe Dayana Mendoza, Twisted Sister singer Dee Snider, Star Trek legend George Takei and Velasquez.