Exclusive
VIDEO: LaToya Jackson Eliminated From Celebrity Apprentice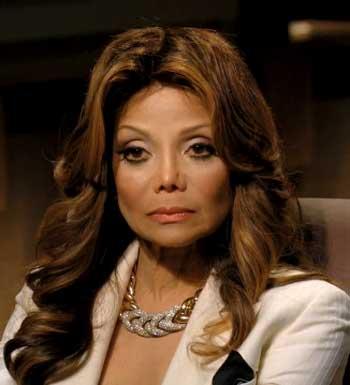 LaToya Jackson is gone from Celebrity Apprentice, as Donald Trump fired the 54-year-old sister of the late King of Pop on Sunday's episode of the NBC hit.
LaToya's termination followed a series of fall-outs with her teammates, TV personality Star Jones and Real Housewife NeNe Leakes, that made it clear she was a liability to the women's team after the fairer sex came up short in their task of developing an ad campaign for Trump Hotels.
Article continues below advertisement
"I don't think the team wants LaToya going forward," Trump said in his boardroom. "I think it's going to be very tough for you to win, but we have to give you that chance.
"LaToya, you're fired."
And yes, there were hard feelings: After a season full of tension, Jackson refused to acknowledge Jones in the lobby, then ripped the 49-year-old attorney in her post-firing cab ride, calling her a "very manipulative person.