EXCLUSIVE: Jose Canseco To Be Sued For Brother Boxing Switch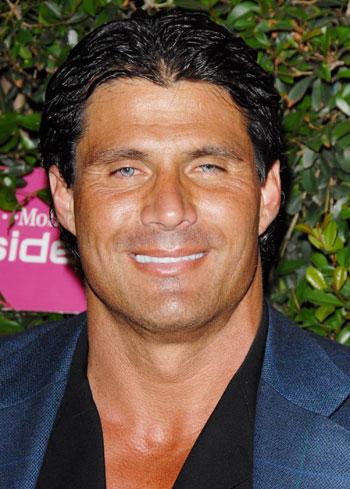 Celebrity Apprentice star Jose Canseco is being sued for breach of contract after he tried unsuccessfully to send his twin brother to participate in a boxing bout, RadarOnline.com has exclusively learned.
Hollywood Boxing Federation President Damon Feldman has claimed the MLB slugger owes him $5,000 after he advanced him the salary for a celebrity boxing match at the Seminole Hard Rock Hotel & Casino in Hollywood, FL., on March 26.
Article continues below advertisement
It was canceled last minute amid speculation that Jose had sent his twin brother to fight the match in his place.
"Yes, there is going to be a lawsuit filed," Feldman's attorney Bryan Konoski told RadarOnline.com, exclusively.
"It's certainly at a minimum going to be for $6,500.
"That's $5,000 for the amount wire transferred under the contract and then an additional $1,500 for travel and things like that and there could be other damages associated with the claim."
Konoski said the paperwork is currently in the process of being prepared by Feldman's other attorney, Evan Hughes.
It will be filed within the next 24 to 48 hours, he said.
"Odds are we'll file in municipal court and they have a $10,000 limit, so the $6,500 is probably as high as we'll go," Konoski said.
In a statement, Canseco insisted that Feldman knew that Ozzie Canseco would be showing up to fight instead because Jose was "dealing with severe depression regarding (their) father's death (in early March)" and "had thrown his back out on his way back from Miami, where he laid his father to rest."
MORE ON:
Celebrity Apprentice
Article continues below advertisement
The documents sent by Feldman suggest the wire transfer was made on March 2 to Canseco's address in California.
The contract signed by Canseco stated that he agreed to "return all monies advanced from 'Federation,' if any, if for any reason the boxing event on March 26, 2011 should not take place due to Canseco not appearing."
He also agreed to as attend a Celebrity Boxing after-party following the match.
Feldman claimed Canseco wouldn't even leave his dressing room and sent his twin brother, Ozzie, out instead, which he described to RadarOnline.com as a "low blow," adding: "I'm just totally disgusted!"
However, Canseco claimed that the agreement was always that his twin brother, Ozzie, would fight in his place – and even challenged Feldman to agree to a lie-detector test.
RELATED STORIES:
EXCLUSIVE: Jose Canseco's Celebrity Boxing Contract -- Read It Here