Exclusive
EXCLUSIVE: Boxing Promoter To Celebrity Apprentice Star Jose Canseco: 'You Look Like The Stiff You Are'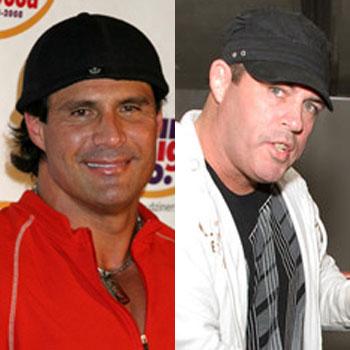 A celebrity boxing promoter has labeled former major league slugger Jose Canseco a "stiff" after he tried unsuccessfully to send his twin brother to participate in a bout he booked in south Florida at the weekend.
In a statement on Tuesday, Canseco insisted that Damon Feldman knew that Ozzie Canseco would be showing up to fight instead because Jose was "dealing with severe depression regarding (their) father's death (in early March)" and "had thrown his back out on his way back from Miami, where he laid his father to rest."
Article continues below advertisement
Undeterred, a seething Feldman has lashed out at the Celebrity Apprentice star, claiming Canseco swindled an upfront $5000 fee.
"You tried to make a fool out of me and you look like the stiff that you are!" Feldman said in a statement, released to RadarOnline.com which was addressed to Canseco.
"Pay me the $5,000 that you fraudulently took from me in advance of your match -- or do it in the ring"
"Don't send your brother," Feldman added, "If I wanted to kick his a--, I would have done it in Florida!"
Feldman said he was particularly upset because he had helped Canseco meets the costs of his father's funeral.
"Look, I just want my $5,000 back and that's it," he said.
"I helped you when you needed it for your father's funeral, as you asked, that's all, just send me the $5000 back or do it in the ring.
"I am a guy who has to support my family."
At the event at at Hollywood, Florida's Seminole Hard Rock Hotel & Casino, Feldman said he grew suspicious when Ozzie kept asking for the rest of his pay before the fight.
Article continues below advertisement
According to Canseco's scheduled opponent Billy Padden, when Feldman refused to shell out the dough, Canseco left.
"He told me that it wasn't personal, that he wasn't going to fight, but that Damon owed him money from a previous fight," Padden said.
Canseco himself tweeted about the incident on Sunday, saying: "Be very careful with Damon Feldman who runs celebrity boxing he will not pay you if you fight for him."
Earlier this month, Feldman was sentenced to two years probation by a Pennsylvania court for fixing fights and putting them on without a license.
RELATED STORIES: