Exclusive
EXCLUSIVE: Celebrity Apprentice Star Jose Canseco In Celebrity Boxing Scandal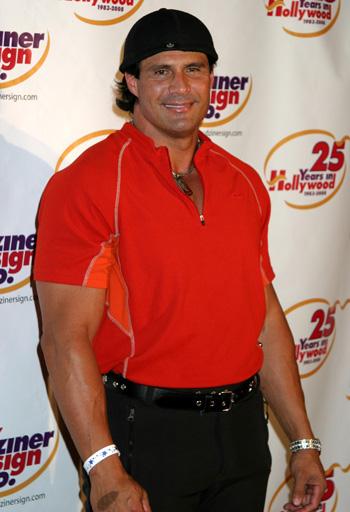 Baseball legend and Celebrity Apprentice contestant Jose Canseco unwittingly found himself in the middle of a Celebrity Boxing scandal this weekend, and RadarOnline.com has all the details.
The Cuban born MLB slugger was due to compete in a Celebrity Boxing match at Passion nightclub at the Seminole Hard Rock Hotel & Casino in Hollywood, FL on Saturday night but the fight was canceled at the very last minute.
Article continues below advertisement
Multiple sources have told RadarOnline.com the cancellation wasn't Canseco's fault. He refused to fight only because he hadn't been paid upfront the $5,000 he had been promised for the fight.
The event's promoter Damon Feldman had an entirely different story about why the widely-promoted match didn't happen. He told the gathered crowd and claimed to RadarOnline.com that Jose had never even showed up, that he'd sent his twin brother Ozzie to fight, and that he then refused to come out of his dressing room.
"Jose Canseco got paid in advance," Feldman insisted. "He wouldn't come out of dressing room and then we found out it wasn't him! It was his twin, Ozzie. This is a low blow what he did. The guy was paid and he sent his brother instead! I'm just totally disgusted!!"
But Jose was at the event and ready to fight, his scheduled opponent tells RadarOnline.com in an exclusive interview.
Billy Padden, the Florida-based trainer and former boxer who was lined up to fight Jose, confirmed to us that Jose was there. The two men met in the dressing room before the fight. Jose's twin brother Ozzie was there, however he was in a suit and sitting in the audience.
Article continues below advertisement
"Jose was a really nice guy. He was ready to fight. I even had my own trainer wrap his hands and we spent time talking in the dressing room," Padden tells RadarOnline.com.
"The guy was warmed up and ready to go."
But because of past experiences with Celebrity Boxing, Canseco wanted his payment before he got into the ring, Padden says, and when Feldman refused, Canseco left.
"He told me that it wasn't personal that he wasn't going to fight but that Damon owed him money from a previous fight," Padden adds.
Jose himself tweeted about the incident on Sunday, saying: "Be very careful with Damon Feldman who runs celebrity boxing he will not pay you if you fight for him."
Earlier this month, Feldman was sentenced to two years probation by a Pennsylvania court for fixing fights and putting on fights without a license.
Former Celebrity Boxing contestant Michael Lohan, who last week was charged with domestic violence in Los Angeles, was also present at the event.
Canseco's attorney Andrew Kirsh told RadarOnline.com he didn't "know anything about" the incident.
RELATED STORIES: