Exclusive
EXCLUSIVE: Baseball Star Jose Canseco Breaches Contract, Claims Celebrity Boxing Promoter -- Read The Deal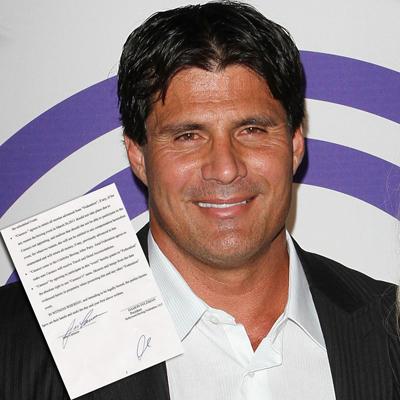 Former baseball star, controversial author, and Celebrity Apprentice contestant Jose Canseco is battling with a boxing promoter outside of the ring, and only RadarOnline.com has copies of the costly contract that he's accused of breaching.
EXCLUSIVE: Jose Canseco's Celebrity Boxing Contract -- Read It Here
Hollywood Boxing Federation President Damon Feldman claims that the MLB legend and Celebrity Apprentice contestant owes him $5,000 after he advanced him the salary for a celebrity boxing match at the Seminole Hard Rock Hotel And Casino in Hollywood, FL scheduled for last Saturday; it was canceled last minute amid questions whether Jose or his twin brother showed up for the match.
Article continues below advertisement
"I helped him by advancing money and I just want my $5,000 back," the Florida-based promoter told RadarOnline.com, who says he lost a further $10,000 with his partner Celpad.com because the match never happened, along with lost TV potential rights.
RadarOnline.com previously reported that multiple sources say the fight cancellation wasn't Canseco's fault, and the Cuban-born slugger refused to fight because he wasn't paid up front, but the documents sent by Feldman suggest the wire transfer was made on March 2 to Canseco's address in California.
In the contract signed by Canseco, the baseball star agrees to "return all monies advanced from "Federation," if any, if for any reason the boxing event in March 26, 2011 should not take place due to Canseco not appearing." He also agreed to as attend a Celebrity Boxing After Party following the match.
Feldman claims Canseco wouldn't even leave his dressing room and sent his twin brother, Ozzie, out instead, which he described to RadarOnline.com as a "low blow," adding, "I'm just totally disgusted!"
Article continues below advertisement
But Canseco's scheduled opponent, Billy Padden, told a very different story, the Florida-based trainer and former boxer who was lined up to fight Jose, confirmed to us that Jose was there. The two men met in the dressing room before the fight. Jose's twin brother Ozzie was there, however he was in a suit and sitting in the audience.
"He told me that it wasn't personal that he wasn't going to fight but that Damon owed him money from a previous fight," Padden adds.