VIDEO: You're Fired! Lisa Rinna Booted Off Celebrity Apprentice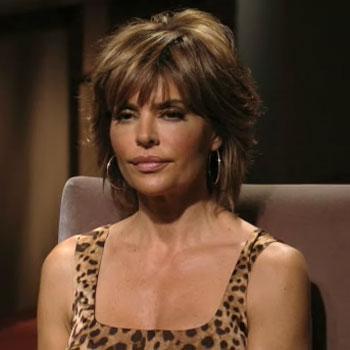 Following in the footsteps of David Cassidy, Lisa Rinna became the second celebrity -- and the first woman -- kicked off the latest cycle of NBC's Celebrity Apprentice Sunday night.
Richard Hatch To Turn Himself In To Begin 9-Month Prison Sentence
Rinna herself probably put it best when she said in the final minutes of 'The Boardroom' to rival Star Jones, "you threw me under the f**king bus!". (Actually, not only did Jones throw her under the bus -- she was driving it also, with Dionne Warwick in the passenger seat.)
Article continues below advertisement
The show began with the women once again pledging to work together ( yeah, right) with Rinna reluctantly taking on the role of team leader for Team ASAP.
On the men's side, the surprisingly emotional Meat Loaf was team leader for Team Backbone.
AUDIO: Lisa Rinna Talks To KIIS-FM's Ryan Seacrest About Being 'Fired'
Celeb ringmaster Donald Trump gave each team the challenge of creating, writing and illustrating a storybook targeted at 4-to-5 year olds. Each team also had to turn the story into a play to perform in front of kids, with Celebrity Apprentice alum Holly Robinson Peete (who lost to Bret Michaels last year) among those judging the final product.
While the women focused on a storyline starring LaToya Jackson as a little lion who couldn't roar with a theme of 'Just Be Yourself', the men created a story focused on rapper Lil Jon being an outcast at school. The men's skit featured Jose Canseco and Richard Hatch in drag!
In the end, Holly Robinson Peete picked the men as the winning team, feeling the women's theme of 'Just Be Yourself' was too grownup for the little kids to understand. That left the women facing The Donald to see which one would be sent packing.
Article continues below advertisement
As the women faced Trump, most of them turned on Rinna for her lack of leadership and indecisiveness -- no one more than fellow divas Star Jones and Dionne Warwick.
A suprising exception turned out to be Marlee Matlin, who said that while she understands that Warwick is an 'icon', she found her to be demeaning and felt that she should be fired.
When Trump asked Matlin if she did not regard Warwick as an icon, Matlin responded, she didn't know her music -- since she's deaf! (Thankfully, that dose of levity momentarily broke up the tension in the room.)
When Trump asked Rinna which two of her teammates should be on the chopping clock, along with her, she said -- to no surprise --Jones and Warwick.
In the end, as the women argued back-and-forth, Trump fired Rinna, as she was the team leader. (You could actually see Jones and Warwick smirking.)
Watch the video here on RadarOnline.com
And while it was definitely not a good night for Rinna, at least she won repeated praise from Trump who couldn't seem to stop praising her newly deflated lips -- telling her how beautiful she looked.