Donald Trump: 'I Warned Brooke Mueller's Mom Not To Let Her Marry Charlie Sheen'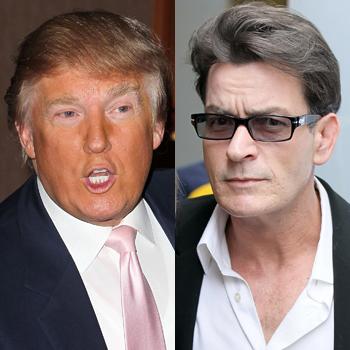 Donald Trump isn't shying away from the Charlie Sheen controversy, RadarOnline.com can report. The Celebrity Apprentice star has revealed he tried to convince Miore Fiore to stop her daughter Brooke Mueller from marrying the former Two and a Half Men star.
Fiore is a member of Trump's Mar-a-Lago Club in Palm Beach Florida. He told DC magazine she was excited about their engagement and was very "impressed" by Charlie. "I said 'Don't let your daughter marry this guy. He's the wrong guy'," The New York Post is reporting.
Article continues below advertisement
None of that contradicts Trump's belief that Sheen would make a terrific contestant on The Celebrity Apprentice.
"He'd be great to have on the show," Trump said.
Trump will have to get in line for Sheen's services though. His first two stand-up shows, in Chicago and Detroit, sold out in a record 18 minutes of tickets going on sale. He's now looking at adding additional dates to his My Violent Torpedo of Truth/Defeat Is Not An Option Show.