Exclusive
EXCLUSIVE: NeNe Leakes Causing Havoc On Celebrity Apprentice 4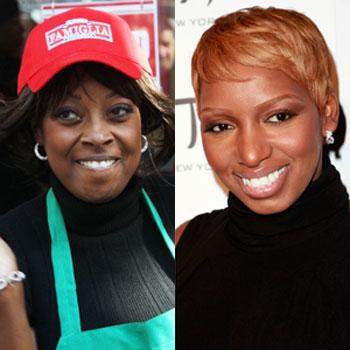 The stars of Celebrity Apprentice 4 are hard at work trying to impress Donald Trump and RadarOnline.com has exclusively learned that Real Housewives of Atlanta star NeNe Leakes is already causing havoc with her fellow cast mates.
"NeNe is causing trouble on the show," a source told RadarOnline.com. "She showed up late to filming and that didn't win her any friends."
According to a source, when the cast list was first leaked and NeNe was mentioned, she started making phone calls and telling people that she was one of the celebrities on the show.
Article continues below advertisement
The person who NeNe has been fighting with? Star Jones, formerly from The View.
"NeNe and Star were butting heads originally," the source said.
As RadarOnline.com previously reported, NeNe has been taking advice from former Apprentice contestant Omarosa Stallworth and she's been schooling her on how to get ahead on the show.
"NeNe isn't really stepping up to the plate and doing the work that the other contestants are and so they're mad at her." The source said NeNe isn't very popular with her teammates.
"She is just trying to promote herself and not really doing the work for the charity." The source said that while many of the celebrities have long standing relationships with their charities, some of them think NeNe just picked a random charity for the show.
"Star is the one to beat, so even though they were originally fighting, NeNe wised up and realized that she had to start working with Star in order to stay on the show," the source told RadarOnline.com.
Article continues below advertisement
"She's started forming an alliance with Star."
RadarOnline.com previously reported that NeNe respects her co-star Dionne Warwick but she wasn't getting along very well with La Toya Jackson either. "There are going to be a lot of sparks flying with so many big egos on display."
Reality star Lisa Rinna and La Toya Jackson were spotted selling pizza on the streets of New York. Other competitors on Celebrity Apprentice Season 4 include supermodel Niki Taylor and Playboy Playmate of the Year Hope Dworaczyk, rapper Lil' Jon, musicians/singers Meatloaf, Sugar Ray front-man Mark McGrath, and country star John Rich of Big & Rich. Actors David Cassidy, Gary Busey and Oscar winner Marlee Matlin are also competing.