Exclusive
EXCLUSIVE: Atlanta Housewife NeNe Leakes Furious Over Husband's Lie About $10,000 Loan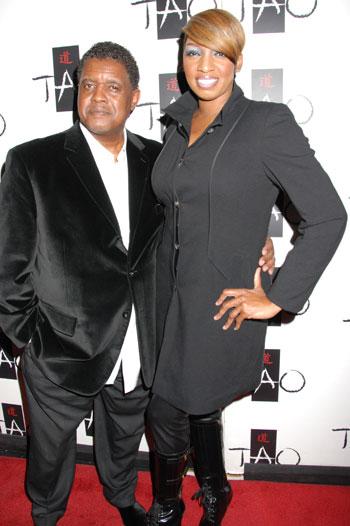 Real Housewives Of Atlanta star NeNe Leakes is raging mad with her estranged husband Gregg Leakes for lying to her about a loan from castmember and friend Dwight Eubanks, RadarOnline.com has learned.
On the last episode, Dwight reportedly lends NeNe's husband $10,000 but when she confronts Gregg about the money he claims it was actually only $500.
But RadarOnline.com has learned that Gregg actually did borrow $10,000 from the Atlanta-based beauty salon owner and NeNe is spitting mad about it.
Article continues below advertisement
VIDEO: The Atlanta Housewives Go Head-To-Head
"Gregg lied to NeNe because he did get a $10,000 loan from Dwight and now she is really pi**ed at him," a source told RadarOnline.com.
"Money is a sensitive issue between them and NeNe cannot believe that Gregg would lie to her. She feels it has put her in an awkward position with Dwight because they are really good friends who confide in one another both on and off camera.
"NeNe confronted Gregg about the money off camera and she was not happy with his response- and to make matters worse she no longer knows if she can trust Dwight either.
"She felt betrayed when he announced on the show that he spent $30,000 on Sheree's fashion show and now she does not know what kind of deals he has been doing with Gregg behind her back."
Money has been a sore point for the roller-coaster couple in the past.
Article continues below advertisement
Over the summer Gregg told Largefm.com: "I put $300,000 of my own money for NeNe to become a housewife. Without that she wouldn't be s*** … she's going to give me every dime back of my $300,000 back."
The couple's 14 year marriage has reportedly been on shaky ground in recent times with NeNe being romantically linked with Chicago Bears NFL defender Charles Grant.
Her son Bryson- from another relationship - was arrested for being in the possession of marijuana back in March.
NeNe, 42, who is originally from Queens, New York, met Leakes while she was working as an exotic dancer called Silk at an Atlanta club.
The reality star - who also has another son Brentt with Leakes – once revealed: "I could make $500 off one guy just by turning him on."
EXCLUSIVE VIDEO INTERVIEW: NeNe: "I Was A Single Mom Living In An Abusive Relationship"
"These men were obviously there to see what I had, and I quickly realized that those men weren't there to make me feel bad about myself."