EXCLUSIVE: NeNe Leakes Gets Schooled By Apprentice Alum Omarosa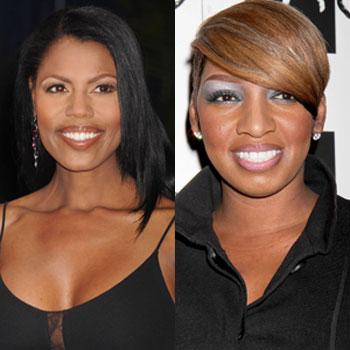 Celebrity Apprentice 4 contestant and Real Housewives of Atlanta star NeNe Leakes has struck-up a friendship with the reality show's former 'firecracker contestant' Omarosa Stallworth, RadarOnline.com can reveal.
And Omarosa – who became the woman America loved-to-hate after appearing on Donald Trump's Apprentice in 2004 – has been schooling NeNe on how to get ahead on the show.
Maybe that's why reports have already surfaced that NeNe is displaying some diva-like behavior after the new series recently started taping - it includes other celebrities like Dionne Warwick, La Toya Jackson, and Star Jones.
Article continues below advertisement
A source told RadarOnline.com: "NeNe and Omarosa have become friends and NeNe is determined to assert herself among the other contestants and to do well on the show.
"She respects Omarosa's 'no-nonsense' attitude and the pair have been out for a few meals together and seem to enjoy each other's company too.
"NeNe thinks if she can do well on Celebrity Apprentice 4 then this could lead to bigger and better things for her.
"She's got a busy schedule right now because she is still doing Real Housewives Of Atlanta too, so, she appreciates any help that Omarosa can give her as she tries to get ahead.
"NeNe respects Dionne Warwick but she is not getting along that well with La Toya Jackson and there are going to be a lot of sparks flying with so many big egos on display.
VIDEO: The Atlanta Housewives Go Head-To-Head
"Donald Trump is going to have his hands full keeping all these women in line because NeNe is in it to win it that's for sure."
Article continues below advertisement
According to published reports, other competitors on Celebrity Apprentice Season 4 include sexy Playmate of the Year Hope Dworaczyk and supermodel Niki Taylor, rapper Lil' Jon, musicians/singers rocker Meatloaf, Sugar Ray front-man Mark McGrath, and country star John Rich of Big & Rich, and actors David Cassidy, Gary Busey, deaf Oscar-winning actress Marlee Matlin and Lisa Rinna.
There will also be two controversial figures - former Survivor winner Richard Hatch, who evaded paying his taxes on his reality show winnings and wound up in jail plus Steroid-enhanced former baseball star Jose Conseco.