EXCLUSIVE DETAILS: Celebrity Apprentice Divas Come To Blows On Set Of Reality Show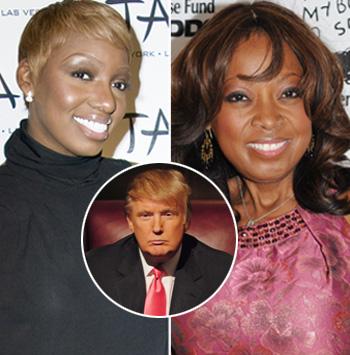 Real Housewives Of Atlanta star NeNe Leakes and former View panelist Star Jones actually came to physical blows on the set of NBC's Celebrity Apprentice, RadarOnline.com has exclusively learned.
"Star pointed her finger right in NeNe's face and she slapped her hands away and rushed towards her," a production source revealed.
"People had to intervene to separate them before things got totally out of hand."
Article continues below advertisement
As evidenced by a recent TV appearance, there is no love lost between the two women.
NeNe, who appeared on the Wendy Williams Show, confessed to the host: "Star is special... I wouldn't spit on her if she were on fire."
Until now, it was not known the volatile pair's simmering feud had spilled over into actual physical contact.
"With NeNe being 5 ft 10 inches tall and Star only 5 ft 5 inches tall, it was an unlikely match-up, but both women were really angry," said our spy.
The clash is poised to make the new season of NBC's Celebrity Apprentice one to watch as its contestants take shots at one another -- both on and off the small screen.
However, the show's host and mentor, Donald Trump, isn't keen for the brawling footage to air.
"He thinks that they both behaved inappropriately," one source dished.
"Their feuding may turn-out to be ratings gold but these two women really despise one another now."
Article continues below advertisement
When contacted by RadarOnline.com, NeNe's rep had no comment.
Calls to Star's rep have not been returned.
Ironically, we're told when filming began in New York, the pair initially got along well.
But NeNe felt slighted by Star because she was not supportive when the cameras started to roll.
She thought that Star looked-down on her and tried to boss all the other contestants around as well; to make matters worse, she felt that Star was way too demanding when it came to hair, make-up and wardrobe too.
The source said: "At first NeNe thought they would get along well because she watched Star's dog and even went out on a double date with her.
"But the friendship did not materialize and when filming actually started, things went from bad to worse - now NeNe doesn't care who or what she says about Star Jones."
Other contestants on this year's edition include Partridge Family star David Cassidy, LaToya Jackson, singer-turned-psychic friend Dionne Warwick, rocker Meatloaf and steroid whistle-blower Jose Canseco.